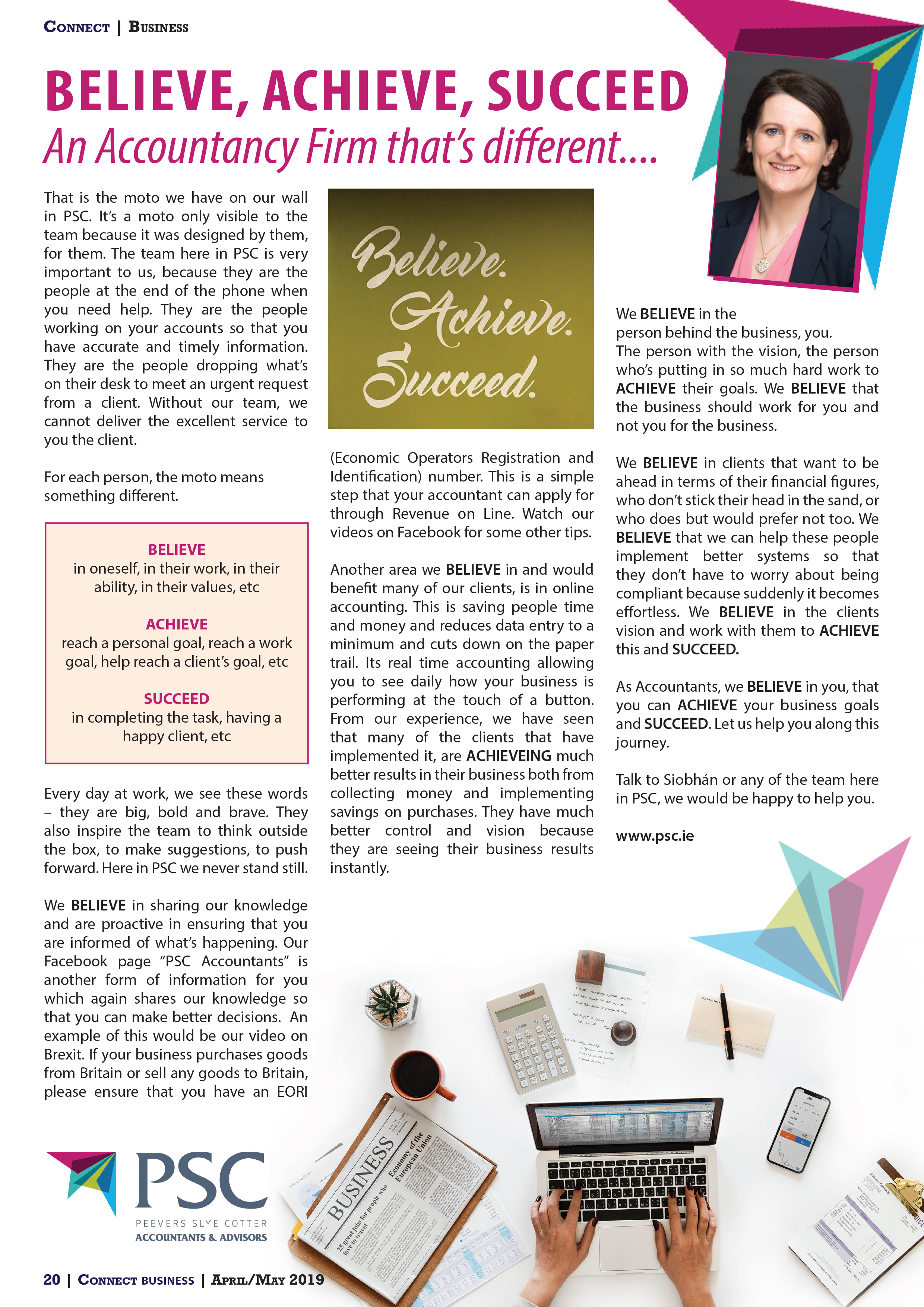 BELIEVE, ACHIEVE, SUCCEED
An Accountancy Firm that's different….
That is the moto we have on our wall in PSC. It's a moto only visible to the team because it was designed by them, for them. The team here in PSC is very important to us, because they are the people at the end of the phone when you need help. They are the people working on your accounts so that you have accurate and timely information. They are the people dropping what's on their desk to meet an urgent request from a client. Without our team, we cannot deliver the excellent service to you the client. For each person, the moto means something different. Every day at work, we see these words – they are big, bold and brave. They also inspire the team to think outside the box, to make suggestions, to push forward. Here in PSC we never stand still. We BELIEVE in sharing our knowledge and are proactive in ensuring that you are informed of what's happening. Our Facebook page "PSC Accountants" is another form of information for you which again shares our knowledge so that you can make better decisions. An example of this would be our video on Brexit. If your business purchases goods from Britain or sell any goods to Britain, please ensure that you have an EORI (Economic Operators Registration and Identification) number. This is a simple step that your accountant can apply for through Revenue on Line. Watch our videos on Facebook for some other tips.
Another area we BELIEVE in and would benefit many of our clients, is in online accounting. This is saving people time and money and reduces data entry to a minimum and cuts down on the paper trail. Its real time accounting allowing you to see daily how your business is performing at the touch of a button. From our experience, we have seen that many of the clients that have implemented it, are ACHIEVEING much better results in their business both from collecting money and implementing savings on purchases. They have much better control and vision because they are seeing their business results instantly.
We BELIEVE in the person behind the business, you. The person with the vision, the person who's putting in so much hard work to ACHIEVE their goals. We BELIEVE that the business should work for you and not you for the business. We BELIEVE in clients that want to be ahead in terms of their financial figures, who don't stick their head in the sand, or who does but would prefer not too. We BELIEVE that we can help these people implement better systems so that they don't have to worry about being compliant because suddenly it becomes effortless. We BELIEVE in the clients vision and work with them to ACHIEVE this and SUCCEED. As Accountants, we BELIEVE in you, that you can ACHIEVE your business goals and SUCCEED. Let us help you along this journey.
Talk to Siobhán or any of the team her in PSC, we would be happy to help you.
www.psc.ie